Firstly i should start by saying for those of you who don't know i'm from the UK.
So today i was out shopping and i thought i would get the new American Harper's Bazaar magazine for obvious reasons, of course.
As there is a British Harper's Bazaar i knew i would have to go to a shop that has large selection of magazine's to get this one the one i so desperatly wanted ..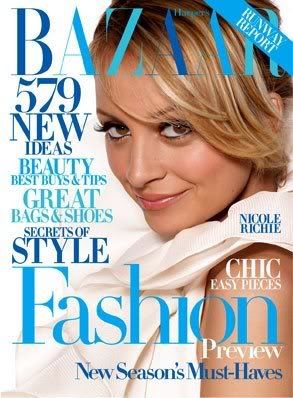 So i went to WhSmith's who usually stock every single magazine and all that i could find in there was the British Harper's Bazaar.
I then asked a shop worker and he told me to try the other WhSmith's, so i did.
I treked all the way across town and nope they only had the British version - i mean they had a magazine on the 'social network known as facebook' but no Harper's Bazaar!
I have walked all around Liverpool and can not find this magazine and now i feel frustrated and defeated that i can't think of anywhere else that may stock it.
Has anyone else bought this magazine?

I was thinking it may of not came out yet but i'm almost certain it has!
I would truly appreciate some help.
Much Love,
Nicole Richie News
xXx