Like any new grandfather, Lionel Richie can't stop gushing.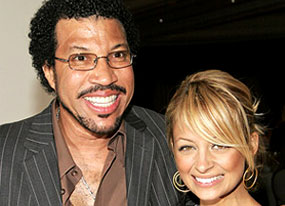 "G-Pa is right here," Richie announced to E! News anchor Ryan Seacrest on his KIIS-FM radio show Thursday morning, before launching into the requisite proud grandpa schtick. (Listen to the interview.)
"Let me just say something. That baby is the sweetest, most beautiful baby. You know how it is. You get prejudiced about your kid. Well, Nicole's kid is amazing, I have to tell you. And she has turned into a full-fledged mom."
That kid, as it happens, is Harlow Winter Kate Madden, the first child for Nicole Richie and rocker beau Joel Madden, who, come Tuesday, will be celebrating two full months in the world.
As for the proud parents, the pop icon said he can't wait for the twosome to make their couplehood official and that he fully endorsed the Good Charlotte frontman as a future son-in-law. Nevertheless, Richie told Seacrest he understands the matrimonial tradition isn't necessarily of utmost importance these days.
"Let me tell you something. I got my fingers crossed. These two are the new generation. When we were coming along, it was always matrimony first, baby second. But now, I must tell you, this guy is so in tune with Nicole.
"I love him to death," Richie continued. "I couldn't ask for a better guy...I mean that sincerely. And if there is matrimony down the line, trust me, you'll know it first, 'cause I'll be telling everybody."
Richie said he had no need to give parenting tips to Nicole, but couldn't resist offering up a few wise words from the delivery room: "This doesn't come with a manual."
"She looked at me like, 'Now what do I do?' I said, 'I dunno!' " he told Seacrest, laughing.