This is what WWWD had to say ..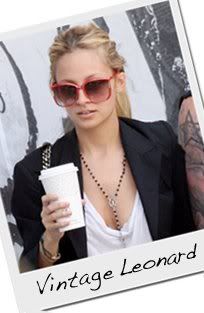 "Nicole Richie Vintage
Leonard Sunglasses
($50-$150)
Without a doubt, Nicole Richie's prowess for vintage shopping sets her apart from the majority of her peers.
She demonstrated her mastery recently when she displayed a prize pair of Leonard sunglasses outside of LA's DCMA store.
Embellished with mini pyramid studs on their red frames, her find is positively fantastic and totally enviable.
If you'd like to emulate Richie's style, you can scout out the similar pairs available on eBay or invest in the
Zazou 2-Tone Sunglasses
by Selima Optique ($268)."