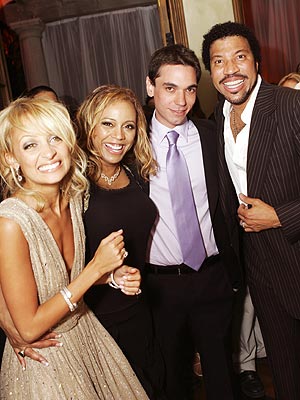 Nicole Richie's ex-fiance Adam Goldstein has launched legal action against a New York newspaper over a story about the former couple's break-up.
Goldstein -- who goes under the moniker of DJ AM -- proposed to the socialite in 2004 but the couple called off their engagement the following year.

Now the DJ is suing the New York Daily News for libel and invasion of privacy over a story about the split.

In papers filed at Los Angeles' Superior Court on June 27, Goldstein has hit back at the article, which focused on his financial affairs and his DJing career.

The lawsuit states, "DJ AM's career has continued to thrive. Even though a minimal amount of research would have, at the very least, caused Daily News to have entertained serious doubts about the credibility of its supposed source(s), defendants appear to have elected time to publish the sloppy and false article."

Goldstein is seeking at least $10 million in damages, and a permanent injunction banning further publication of the information included in the Daily News article.
I personally think the media is very invasive in regards to celebrities personal live's and it is good that he is taking action against them.
Yet their relationship was such a long time ago now, they have both moved on and i think it is odd that he is suddenly deciding to pursue something that happened quite a while ago, i'm sure Nicole is most likely over what ever was said.
Also if Nicole tried to sue everyone who made rumours up about her she would be a billionaire, it is the price they have to pay with fame!
xx