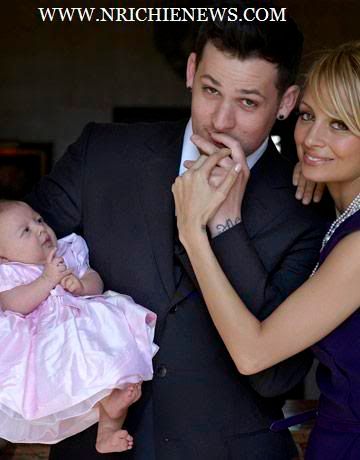 Nicole Richie and Joel Madden's daughter, Harlow, has managed to bring the Richie-Madden family even closer.

The Simple Life alum has recently gotten closer to her birth mother and, now, her rocker beau has done the same with his dad!

Joel and his twin brother Benji Madden had not spoken to their father, Roger Combs, for over 10 years - since he walked out on the family.

Roger, who's a recovering alcoholic, left his fam when Benji & Joel were high school freshman. He later returned to only leave again for good, this time on Christmas Eve when the two were 16.
Ever since then, the two have changed their last name to their mother's maiden name, Madden, and haven't spoken to their dad since.

That is until the birth of Harlow.

Ever since her birth back in January, Roger says he began receiving text messages from his sons.
AND, now Roger has spoken out to the media! - I don't know if this is a good thing!?

Recently, after a Good Charlotte concert in New Jersey, Joel, Nicole, Benji and baby Harlow drove to Bowie, MD to visit Roger.

After holding his granddaughter for the first time, Roger tells In Touch Weekly, "It was a wonderful moment. She's such a beautiful girl. I felt very proud."

And as for Nicole, Roger says he feels she's already part of the family, telling the mag, "She's the sweetest girl anyone in their life could want as a daughter. Nicole's such a loving person and she has a great sense of humor. I've told Joel, 'Don't let this one get away. This one is a keeper for you, son."

And Roger says Nicole feels the same way.
He adds, "I was talking to Joel on the phone one day, and she grabbed the phone from him and said, 'Let me talk to him now. I want to talk to my dad.'"

He added about leaving his family behind that "My kids were mad at me, and I don't blame them. We are good today, and that's all that matters."
It is so great that Joel and Benji have no formed a relationship with their estranged father.
But is he pulling a Michael Lohan on his son's by talking to the media!?
Much Love,
Nicole Richie News
xXx